Risk Management: Why it's Important
There is no project in this world without risk. The risk can either be a positive risk or negative. This article explains the introduction of Risk Management and SWOT Analysis.
What is Risk?
An uncertain event that, if it occurs, has a positive or negative effect on the company or project goals and objectives and/ or success.
What is Risk Management?
A proactive attempt to recognize and manage internal events and external threats that affect the likelihood of a project's success
Project Success = Safe – On Time – Under Budget – Quality
The art and science of identifying, analyzing, and responding to risk throughout the life of a company/project and in the best interest of meeting company/project goals and objectives.
It begins with fully understanding the organization's strengths and weaknesses, and the opportunities and threats that it faces.
It helps in planning for the 'future' by exploiting strengths and opportunities and mitigating weaknesses and threats.
What is SWOT Analysis?
SWOT stands for Strengths, Weaknesses, Opportunities, and Threats.
SWOT Analysis is a planning tool used to analyze risks on a project.
A Framework for organizing and using historical data and information to identify internal and external risks.
A technique that enables a project team to move from traditional strategies to a project-specific fresh perspective.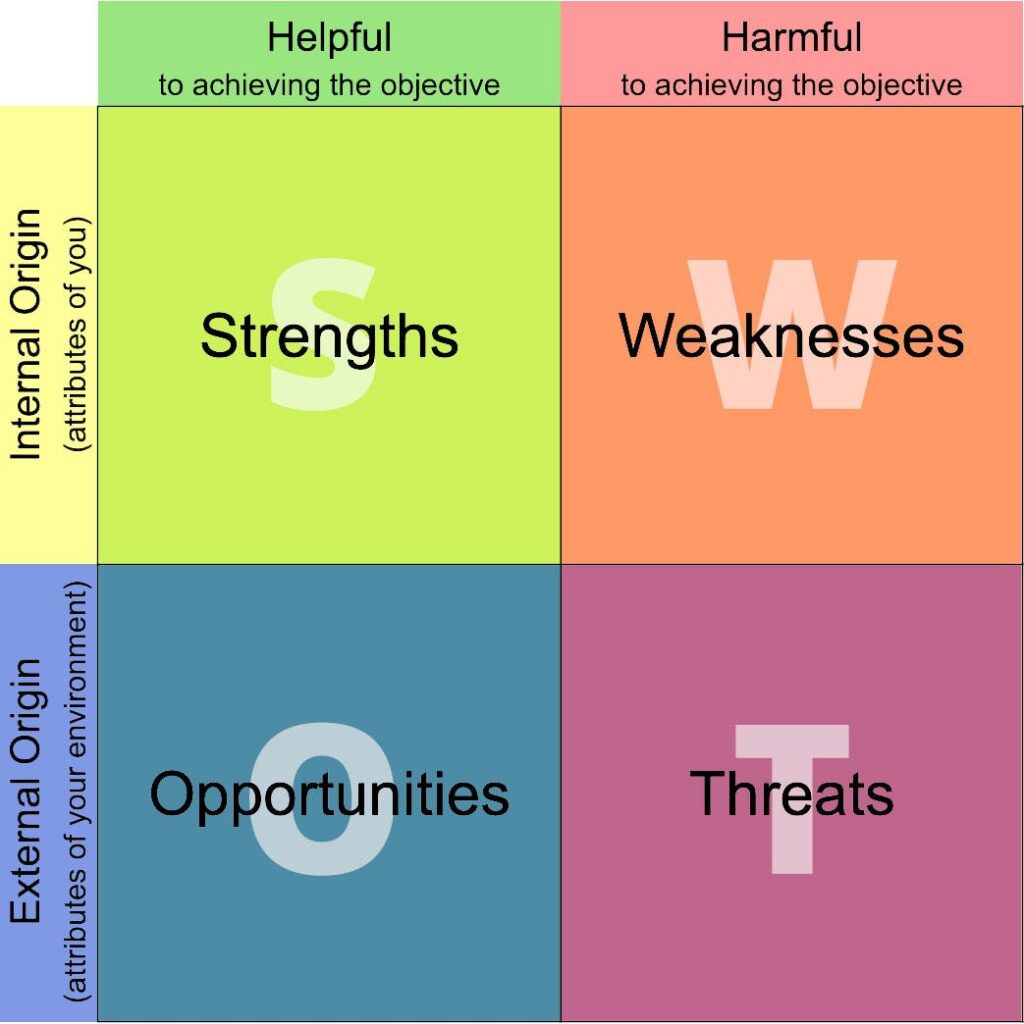 1)STRENGTHS:
Characteristics of the business or a project team that gives it a competitive advantage.
Positive tangible and intangible attributes, internal to an organization.
Beneficial aspects of the organization or the capabilities of an organization, which include human competencies, process capabilities, financial resources, products and services, customer goodwill, and brand loyalty.
Identify skills and capabilities that you have.
What can you do particularly well, relative to competitors?
What do analysts consider to be your strengths?
What resources do you have?
Is your brand or reputation strong?
2)WEAKNESSES:
Characteristics that place the firm at a disadvantage relative to competitors.
Detract the organization from its ability to attain the core goal and influence its growth.
Weaknesses are the factors that do not meet the standards we feel they should meet. However, weaknesses must be controlled, minimized, and eliminated.
What do competitors do better than you?
What do you do poorly or least effectively?
What generates the most customer dissatisfaction and
complaints?
What generates the most employee dissatisfaction and
complaints?
What processes and activities can you improve?
3)OPPORTUNITIES:
Chances to increase revenue – External factors that represent the reason for an organization to continue to exist & develop.
Arise when an organization can take advantage of conditions in its environment to plan and execute strategies that enable it to become more profitable.
The organization should be careful and recognize the opportunities and grasp them whenever they arise. Opportunities may arise from the market, competition, industry/government, and technology.
Where can you apply your strengths?
How are your customers and their needs changing?
How is technology changing your business?
Are there new markets for your strengths? (e.g., foreign)
Are your rivals' customers dissatisfied?
4)THREATS:
External elements in the environment that could cause trouble for the business – External factors, beyond an organization's control, which could place the organization's mission or operations at risk.
Arise when conditions in the external environment jeopardize the reliability and profitability of the organization's business.
Compound the vulnerability when they relate to the weaknesses. Threats are uncontrollable. When a threat comes, stability and survival can be at stake.
Are customers able to meet their needs with your competitors?
Are customers' needs changing away from your market?
What new technologies are your competitors developing?
Are your rivals improving their market offerings or lowering prices?
Is new technology making your operations obsolete?
Is your cash-flow and debt position healthy?
Are your employees satisfied? Is turnover high?
Is new competition coming?
Are sales growing slower than the industry average?
Why SWOT Analysis?
To help decision-makers share and compare ideas.
To bring a clearer common purpose and understanding of factors for success.
To organize the important factors linked to success and failure in the business world.
To analyze issues that have led to failure in the past.